World Water Day 2021 - Virtual Exhibitions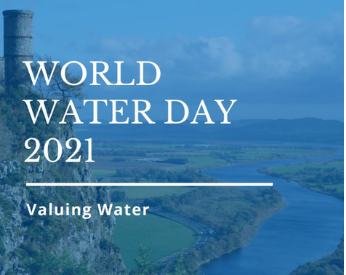 Update
|
14th September 2023
Virtual Exhibitions
Scotland's World Water Day 2021 event, held on the 22nd March, included a series of innovative virtual exhibition spaces hosting a huge number of submissions kindly provided by contributors across Scotland's Water Sector and beyond. These will remain live and continuously updated until World Water Day 2022! 
After the roaring success of the virtual exhibitions at World Water Day 2021, we intend to include a virtual component at future World Water Day events, and we are in the process of establishing a dedicated site to host all of this fascinating material, so watch this space! 
Until then, you can access all of these fascinating virtual exhibitions here, by clicking the links above the descriptions. You can also find more details of the event in the programme here.
 
Explore the leading-edge research of the Hydro Nation Scholars in a virtual poster session. The research of the next generation of Scotland's water leaders covers a wide range of contemporary waters issues, from pollution control to climate resilience, health and wellbeing.
As the Hydro Nation, Scotland is taking a leading role in addressing the global water challenge. Take a tour through some of the contributions of Scottish organisations and international collaborators. 
Water has always been a deep well of artistic inspiration. Take some time to meander through this virtual exploration of the role of water in contemporary Scottish art and design, featuring works from:
Need a break from a busy day? Take some time to relax to music and images of Scotland's water landscapes.
Scotland is a world leader in water sector innovation - take a look around the Innovation room to discover more about the services driving this success, such as the Water Test Network, Scottish Water Horizons Development Centres, and the Hydro Nation Water Innovation Service.  
The management of water resources is a complex, multifaceted challenge. This virtual exhibition highlights the latest thinking on water governance, both in Scotland and internationally. 
Discover the latest citizen science initiatives monitoring and studying Scottish waters, and find out how you can get involved in the recently announced WaterWall in Motion video competition.
Scottish Water have set themselves the ambitious target of reaching net zero emissions by 2040, a full five years ahead of the Scottish Government's target of 2045. Follow the link to learn more about how Scottish Water are working to achieve this goal.
Explore the role of Blue-Green Infrastructure in place-making, climate resilience, health and wellbeing, and get up to speed on new and upcoming Blue-Green Infrastructure projects across Scotland's town's and cities.