World Water Day 2021 Spotlight - Rachel Helliwell, Centre of Expertise for Waters (CREW)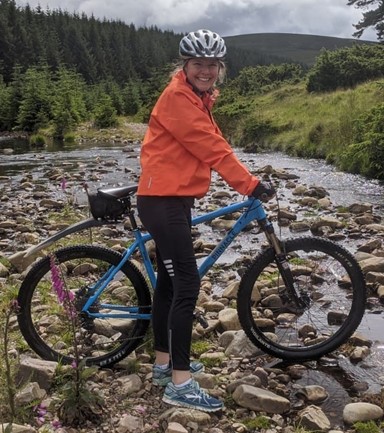 News
|
14th September 2023
Rachel has dedicated her 27-year career to water research and currently works at the science policy interface as the Manager of the Centre of Expertise for Waters (CREW). In that role, she works with the Scottish Government and its partners in the development and implementation of water policy. The principal policy areas include Flooding and Coastal Erosion; Water Quality; Catchment Management; and Sustainable Communities, along with a broader engagement supporting the Hydro Nation agenda and climate crisis.
It is Rachel's responsibility to ensure that CREW delivers high quality, innovative and transformative research to its stakeholders. Drawing on her extensive networks across academia, industry and policy sectors Rachel coordinates research to meet their evolving water policy needs. More recently her focus has been to support the delivery of knowledge to enable transformative change to address contemporary issues in the water sector including promoting the circular economy and resource efficiency, a post-COVID green recovery, the move to net zero, and a just transition for communities.
Prior to taking on the CREW position, Rachel worked with the Water Industry Team at Scottish Government to establish the Hydro Nation International programme; an initiative geared towards the delivery of Sustainable Development Goal 6 (To provide clean water and sanitation to all). Rachel was responsible for raising Scotland's international profile as a 'Hydro Nation' through policy driven research in water management and governance, identified new international funding opportunities, and developed and managed the Hydro Nation Fellowship Programme.
Working with interdisciplinary teams Rachel coordinated the delivery of a number of key projects in India and Malawi including the design and build of a community driven, low cost, energy efficient, simple technology, decentralised wastewater treatment system. A model that is being considered for wider adoption at a national and international scale.
Drawing on her links with the Scottish water community Rachel is looking forward to launching the 'WaterWall in Motion' at World Water Day. The aim of the project is to celebrate how Scotland, as a Hydro Nation, is leading the way in water research, innovation, management, business, creativity, health and recreation. CREW (and supporting partners) will invite the water community to share their stories/messages in 2 minutes videos as part of a competition that will run through the spring and summer 2021. This online, open resource, along with a short film of winning video entries, will be available for wide use including at satellite COP26 events. For more information about how to make the most of this opportunity, and share videos, look out for the 'WaterWall in Motion' poster in the virtual Water Community Exhibition space. The exhibition will be available for the duration of the competition.