World Water Day 2021 Spotlight - Morag Garden, Scotch Whisky Association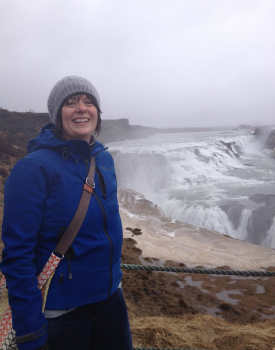 News
|
13th September 2023
Morag Garden is Scotch Whisky Associations' Head of Sustainability & Innovation, a role she took up in 2007.
Her career began, and has always remained, in the environmental lobbying arena working with a number of industry bodies.  Her career started in Scottish Water covering a range of roles from Laboratory through to Environmental policy.  She has also taken a number of secondment opportunities during her career, including a year with the Scottish Government developing policies on how to control Diffuse Pollution as part of Scotland's implementation of the EU Water Framework Directive.  She was delighted to move from water to whisky over a decade ago and to be working for Scotland's iconic Scotch Whisky industry. 
The Scotch Whisky Association (SWA) is the industry's representative organisation and aims to protect and promote Scotch Whisky worldwide. The Association has over 70 member companies and includes distillers, blenders, bottlers and brokers of Scotch Whisky and represent around 95% of the industry.
The Scotch Whisky industry supports 40,000 jobs across the UK. The industry employs 11,000 people directly in Scotland, 7,000 of whom work in rural areas. With £5.5 billion economic impact across the UK economy, the sector is one of the largest net contributors to the UK balance of trade in goods. Scotch Whisky represents 75% of all Scottish food and drink exports, 20% of all UK food and drink exports.
Morag is part of the Association's Industry Team which focuses on achieving a regulatory framework at home, keeping our industry sustainable and competitive.
Twitter: @ScotchWhiskySWA #sustainablescotch
Value of Water: Scotch Whisky Perspective - Morag Garden
Due to Christmas and the current lockdown, I have been spending more time watching the TV and recently came across Family Fortunes – a childhood favourite.  This got me thinking about if you surveyed the Scotch Whisky sector what would be our top five answers on the 'value of water'?
I think our top answer to 'Our survey said?' would be the name itself 'Whisky' - which is derived from the Gaelic "uisge beath" which means water of life.  Scotch is also synonymous with Scotland's national drink, and is a product of quality, crafted in Scotland, with a unique heritage stretching back more than 500 years.
The following four are more challenging to rank and are probably influenced by who you ask. 
If we asked our distiller managers on the importance of water to Scotch Whisky; they may tell us that water is critical to the production of Scotch as it is made from only three ingredients – water, yeast and cereals.  Due to water being a fundamental ingredient, our production process has been built around the careful use of our water supplies and building in re-use and recycling.  Water is used from start to finish in the distilling process, both directly, when it is mixed with grains and indirectly, when it is used to cool the spirit or to make steam.
If we asked our Marketing teams, they might focus on the Scotch Whisky's branding which is linked to Scotland's natural environment and high-quality rivers.  Many of our brands create a connection to a special place and its water source.  The stories we tell, take us to many beautiful places and perfect Scottish landscapes from the comfort of our homes.  They may also highlight the importance of water to the individual consumer from the preference to cask strength or adding water or ice as the preferred serving of choice.
Our commercial teams may want to focus on Scotch Whisky being enjoyed in 180 countries throughout the world. Each second, 42 bottles of Scotch are shipped from Scotland across the globe, helping to support tens of thousands of jobs in Scotland and ensuring that millions of consumers can enjoy a dram. The economic value to Scotland is significant and Scotch Whisky is the world's number one internationally traded spirit with exports worth almost £5bn annually.
Our technical teams may want to highlight how the water influences and helps create the unique flavours. Water both is vital to the final flavour and quality of the product. Depending on whether it is hard, soft or spring water, it will have a different effect.  Although water is not the only influencer on the spirit's character. The value of Scotch Whisky is the diversity of flavour profiles across our distilleries. The final spirit character is unique to the distillery, so much so adjoining distilleries which draw their water from similar sources are known to produce whiskies that are quite dissimilar in flavour.
And from my perspective? I agree with all the above and would like to add one more into the mix.
To futureproof our sector against a changing climate, as well as play our part in protecting the natural world and preserve resources for future generations we need to think big and act now.
The sector published its first environmental strategy in 2009 and over the last decade the sector has made significant steps on our sustainable journey.  We have now launched a new Sustainability strategy, and how we value water both within our distilleries as well as in the wider water catchment continues to be a central theme.  Many of our distilleries are sited in iconic Scottish water catchments e.g. Spey Catchment where we play an active part in the wider water community and see ourselves as water stewards of Scotland's rivers.