World Water Day 2021 Spotlight - Malcolm Roughead OBE, Visit Scotland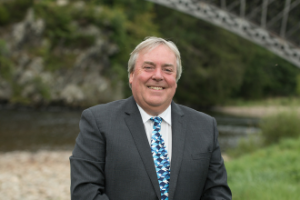 News
|
15th September 2023
A graduate in Modern Languages from the University of Glasgow in 1981, Malcolm Roughead joined VisitScotland as Director of Visitor Engagement in 2001 from Guinness World Records, where he was Global Sales and Marketing Director and held a number of senior marketing positions over a 17 year period with Guinness Brewing in Africa, Europe, the Middle East and North America.  He began in marketing at Nestle, followed by Beechams.
Malcolm has been responsible for the repositioning of Scotland as a leading tourism destination.  
Malcolm is a Fellow of The Institute of Direct Marketing and of The Marketing Society and in March 2004 was awarded Scottish Marketer of the Year at the Scottish Marketing Awards. In the January 2006 Honours List he was awarded an OBE for services to Tourism.
In September 2010 Malcolm was appointed Chief Executive of VisitScotland.
Introduction to VisitScotland
VisitScotland is the national tourism organisation for Scotland. Our main aim is to contribute significantly to the sustainable and inclusive economic, social and environmental advancement of the Scottish visitor economy by positioning Scotland as a leader in 21st Century tourism across the globe and working with the industry to deliver against the new Scotland Outlook 2030  strategy.
VisitScotland consists of 4 Directorates, namely Events, Marketing, Corporate Services, Industry and Destination Development and the CEO's Office which includes Insights, Corporate Communications  and Human Resources.
We work closely with individual businesses, Sector Organisations, public agencies, local authorities and other tourism stakeholders to help ensure that our competitive strengths are harnessed so that Scotland's potential is realised .
Pre-Covid 19 the visitor economy was worth £11.3 billion to the Scottish economy employing approximately 220,000 people across the length and breadth of Scotland and its islands.
Post-Covid our task is to regain the momentum developed and assist the industry in its recovery.